Lowongan Kerja PPIT
14 November 2015
Lowongan Kerja PPIT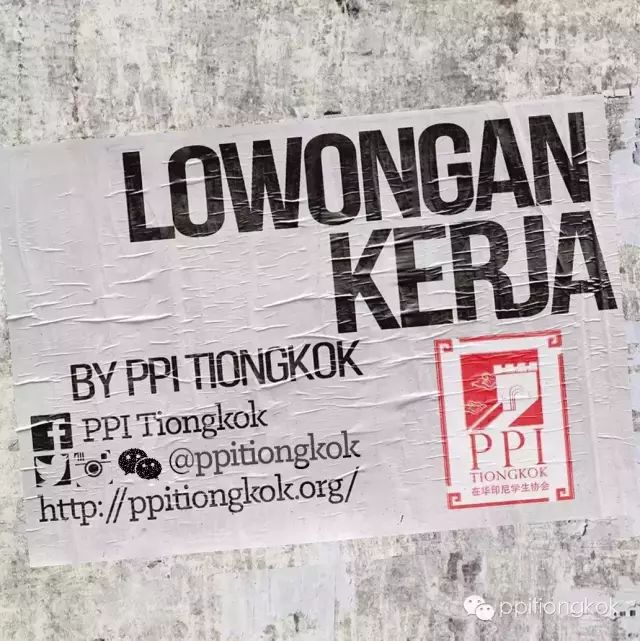 1. Lowongan Kerja – Position : Overseas Operations Manager (the Indonesian. Market)
"Operations Manager is the voice of the user inside the business and must be passionate about the user experience."

Job Description:
· Gathering information from user feedbacks, quantitative data from web analytics and research reports, and give final reports on them.
· Write copies for apps including app descriptions, updates texts, app contents, etc.
· Replying and user engagements on Google Play, Facebook and other social media platforms.
· Keep track of the Mobile App market trends from Indonesia.
· Contact potential partners from Indonesia for content partnerships.
· Working closely with Product manager for creating the best User Experience.
· Translation and help develop Indonesian dictionary for the keyboard app
· Be bold and creative.
Requirements:
· Familiar with mainstream social channels (Facebook, Twitter, etc.), excellent copywriting, editing (photo/video/text), and communication skills
· Big fan of mobile apps, devote to create the best mobile app
· Native speaker of Indonesian/ Bahasa Indonesia. Strong English written and verbal communication skills required;
· Originally come from Indonesia; over 20 years living experience within the home country
Compensation:
Negotiable (10000 – 30000 RMB per month)
Working from 9:30 a.m. – 6:30 p.m. Monday to Friday.
Off work on Saturday, Sunday, and legal/national holidays.
Benefits:
Meal, holiday bonus; annual leaves and travel
here are my contact ways :
Mike Peng
Email addrerss: penghu1990@hotmail.com OR 13716747210@163.com
Tel:+8613716747210
watsapp number:+8613716747210 Viber:+8613716747210
wechat:13716747210 Skout:13716747210 or icec1990
Skype: penghu1990@hotmail.com or icec1990
QQ:593570282
Hepingli South St., Dongcheng District, Beijing, China 在雍和宫附近
The interview will be ready. Tell me your skype or wechat Or Add me on skype or other ways. We will be in touch. have a nice day.
2. Lowongan Kerja: Front Office (CS and Teller) Bank of China Jakarta

Ini alamat email HR-BOC Kirim ke : desi.irwanza@bankofchina.com
untuk posisi Front Office (CS and Teler)